Now Open! Photos courtesy of Eryn Turner, Ashley Loeb, and Michael McCullough

This 15,000-square-foot branch is located in the Orchard Park commercial development project and has a universal design for all people (specific focus on those with special abilities and early literacy); 24-hour holds access & drive-up book return; hands-on learning lab (creative space & after-school programs); as well as community spaces to meet & connect.
Construction 8.29.21
Construction 9.27.21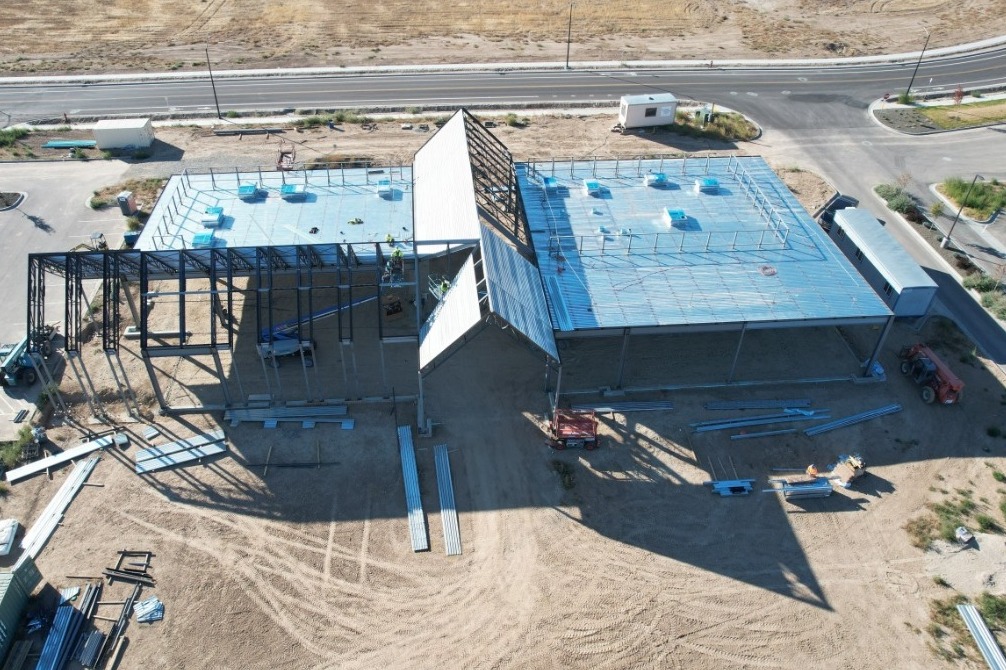 Construction 10.25.21
Construction 2.17.22
Construction 6.24.22
Construction 9.1.22
For more information about our "City of Stories" fundraiser and the new Meridian Library at Orchard Park,
watch our Idaho Today interview with KTVB's Mellisa Paul!



Watch our virtual tour of the new Meridian Library at Orchard Park!
How can you support the Orchard Park project?
February 28, 2022
Meridian library foundation receives $250k grant
The Meridian Library District's future north Meridian location has received a $250,000 boost, thanks to a grant from the Sunderland Foundation.
Construction of the 15,000-square-foot library in the Orchard Park development at Linder Road and Chinden Boulevard began last summer. The Meridian Library District will be a long-term tenant in the building and is set to begin interior tenant improvements later this spring. The new library is expected to open for services in December
2022.
The Orchard Park library will bring literary resources and support to residents in a fast-growing and currently underserved area of Meridian. It is one of four projects supported by a $14 million plant facility levy passed by Meridian voters in 2019.
"This is a unique new library location, designed with an emphasis on accessibility and adaptability," said Library

Director Gretchen Caserotti. "We're very excited to share this space with our community."
The nonprofit Meridian Library Foundation is fundraising to supplement levy funds for the project. The $250,000 grant from the Kansas-based Sunderland Foundation will assist with rising construction costs, which have been impacted by skyrocketing prices for building materials. The grant support will also allow the Meridian Library District to save levy funds for the two additional capital projects on the horizon: construction of a new south Meridian library and renovation of the central Cherry Lane library.
"We are so grateful for the Sunderland Foundation's support of this project and commitment to fostering strong, vibrant communities," said Meridian Library Foundation Manager Eryn Turner. "This grant will help build the innovative library space our community needs."

The Foundation is the proud recipient of a $30,500 grant from Together Treasure Valley to purchase 15 iPads & 20 laptops for Meridian Library District's new Orchard Park Library Makerspace!

Together Treasure Valley is a collaboration of area businesses committed to investing in our communities and making the Treasure Valley an even better place to live, work and play. More than $900,000 in Together Treasure Valley Funds have been committed to community projects since 2016.
On behalf of the Meridian Library Foundation and the community who will benefit from this library, THANK YOU to Together Treasure Valley and all their community partners for making this space possible!
We'd like to thank the Whittenberger Foundation for generously awarding the Foundation a $3,500 grant to purchase youth books for Meridian Library District's new Orchard Park Library!

Mrs. Ethel Bales Whittenberger was an elementary school teacher, and was deeply interested in the welfare and education of children; the Whittenberger Foundation supports innovative & enriching projects that significantly improve the quality of life for children and young people, and we are honored to partner with them as we put new books on the shelves for all kids in the Treasure Valley to read, learn, and be entertained!
Thank you to the Greater Boise Rotary Foundation for generously awarding the Meridian Library Foundation a $3000 Small Grant for a special youth collection for Orchard Park that includes materials like the Social Thinking Curriculum (that teach self-regulation, social-emotional skills, & more) for parents, caregivers, and educators of children with various special needs and abilities.
The Meridian Library District also pledged to earmark $3000 for this special collection for a dedicated total of $6000 for this "Special Needs Book Collection".
MERIDIAN LIBRARY FOUNDATION
© Copyright 2022 Meridian Library District Foundation, Inc.